Finding your ideal rural property: 4 things to look for when buying land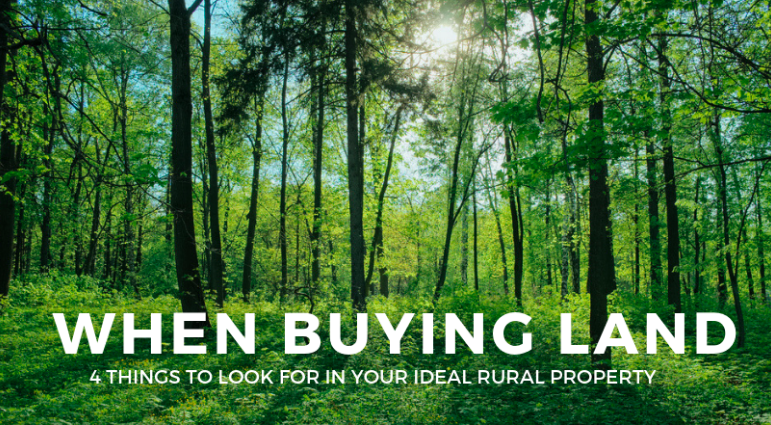 In today's busy, high-stress world, owning rural, recreational land in the Southeast is a dream which many aspire. It's the ultimate way to get away from it all. Think about it: lakeside living, quality time with your family, miles of timber and woods to explore, getting up close and personal with nature. The southern landscape is why you never hear anyone say they want to retire and move up north! 
At Tutt Land, we help people make this dream a reality by showing them how to invest in land, where the premium tracts are, and how they can take advantage of the fantastic real estate available in Alabama, Tennessee, and Mississippi and beyond. 
If you're starting the process of searching for land or considering a purchase soon, however, it's essential to be aware of some critical aspects of rural real estate investment. 
Here are four things to look for when purchasing land: 
1. Location, location, location. 
Yes, it's an old adage when it comes to real estate, but even when considering a rural land purchase, location is a significant factor that often comes into play simply because there are so many variables. 
- Is easy access to interstates or major highways a factor in your decision? 
- Are you searching for a location that offers privacy? 
- How close do you prefer your nearest neighbors to be? 
- Is the noise from animals or equipment going to disturb your peace and quiet? 
Even when living on dozens of acres, it is essential to vet the property's location to ensure it meets your expectations. 
Access to the property itself is another issue. You will need to take into account whether or not there is an existing driveway or path or if one will need to be created, as this can impact your costs. This is especially true if you're purchasing raw land that needs improvements or clearing. Which leads us to our next point.  
2. Rules and restrictions: is this land REALLY your land? 
Upon purchasing the land, you may find that certain city or county ordinances dictate what you can or cannot do with the property. From building a driveway, as mentioned above, to commercial or other uses of the area, it's beneficial for you to work with an experienced real estate team who has existing relationships with area wildlife and government officials. 
Though some of these rules and restrictions may not be immediate concerns, long-term use of the land must be taken into consideration before any purchase. The worst thing that can happen is for an investor to have a clear vision for a property only to be told that they cannot follow through due to local restrictions. 
3. Creature comforts: modern utilities for a primitive landscape
Utilities are another consideration when it comes to rural land development. Even if you don't intend on living on the land, you must be aware of the feasibility of connecting to utilities and what it may cost to ensure that you're as connected (or disconnected) as you want to be. 
From something as simple as cell service to how easy it is to access clean, running water, these are elements that will impact the success of your purchase, as well as the enjoyment of your investment for years to come. 
Additional utilities to consider are sewage and electricity. Many times we find that soil tests, paperwork, and other forms of red tape can spring up during part of the purchasing process. Determining the availability of these types of utilities may end up costing more time and expense, so you must be aware of any additional utility fees prior to purchasing the land. 
4. Taking taxes and insurance into consideration
Typically, rural land taxes are reasonably low. If you're purchasing a property and don't make any income on it, however, you are likely to pay these taxes year after year. Knowing what you are able or unable to pay for an extended period makes it much easier to find the type of rural land that suits your needs and investment structure. 
Insurance is another element of land investment that requires the work of a professional. Will you need additional construction insurance? Homeowners? 
Taxes and insurance represent significant costs for investors, so it is best to work with a real estate team who can help you make sense of it all. 
Your dream can become a reality.
Taking into consideration all of the above, it is crucial that you spend time doing your homework, talking with professionals, experts, and others who will help you make the very best decision. 
You have a vision for your investment, and so do we. Contact us today, and let's talk about how we can partner with you to find the land of your dreams. 
Tutt Land Company is a full-service real estate and land management company offering development services, timberland management, and brokerage of land, residential and commercial properties.  Reach out to us today at (334) 627-4004, or visit our website at www.tuttland.com.