Ways to prep your land now before the start of hunting season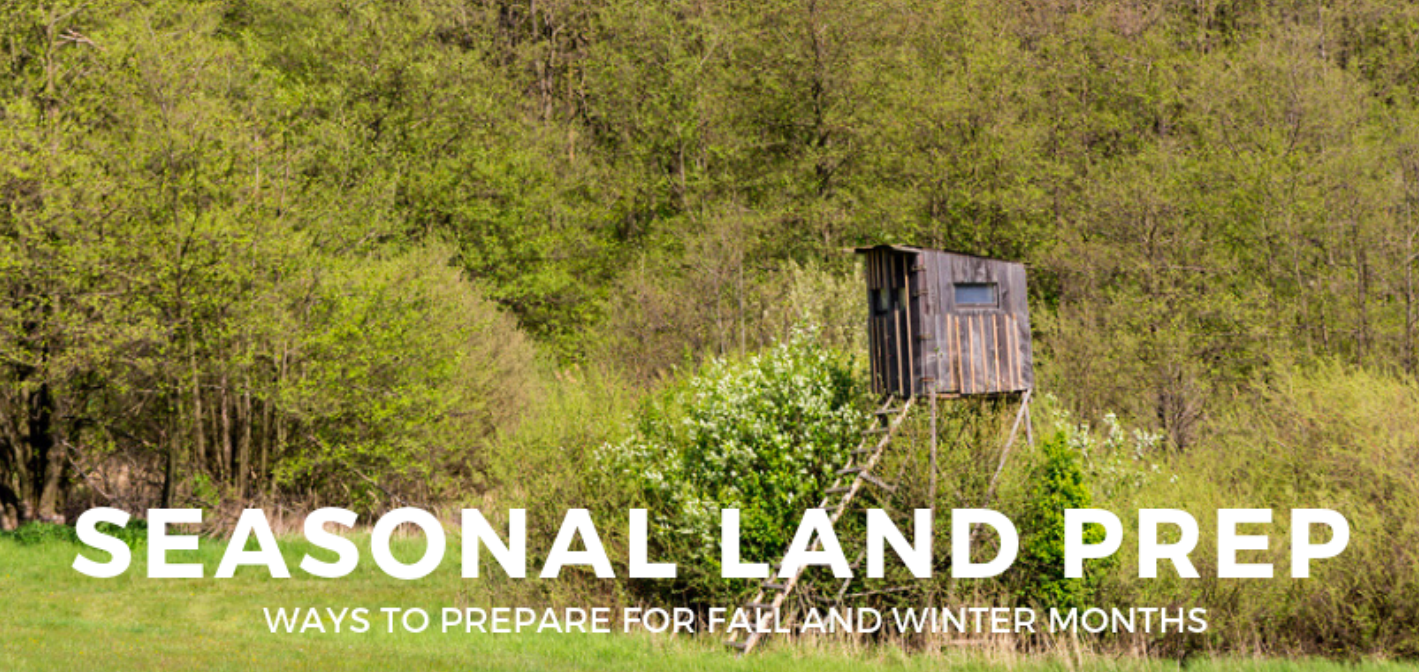 Summer in the deep south can mean many things to many people. Some folks enjoy taking vacations, traveling, or merely enjoying the summertime scenery. In the dog days of Alabama summer, the last thing people want to think about is working outside in the heat. 
But that's just what we recommend. Like the old fable, think "ant" rather than "grasshopper" by doing a little preparation now to ensure you are well-equipped to deal with the peak of the busy hunting season. For landowners specifically, summer is the perfect time to prepare your hunting and fishing tracts for the upcoming fall and winter months. 
It's best to use this time wisely to stay one step ahead of the busy hunting season, especially. So whether you use your property for hunting, are in the market for land, or are a member of a hunt club, you may find this information helpful. 
Here are a few ways you can plan ahead and prepare for fall and winter in Alabama: 
1. Review deer and hunting season zones in your part of the state to ensure you stay compliant. 
If you're in Alabama, we recommend visiting the AL Dept of Conservation & Natural Resources website to stay in-the-know about rules, regulations, and more. Whether you want to find out when or where to hunt, licensing information, or wildlife and conservation efforts, you can find it here. Even experienced hunters will benefit from brushing up on this information from time to time. 
2. Set up trail and wildlife cameras. 
Summer is the perfect time of year to get to know the wildlife and migratory patterns on your land. Whether game, furbearers or feathered friends, it's essential to know and understand how the natural inhabitants of your property use and move on the land. It isn't a bad idea to do this activity seasonally, so you become more conscious of particular migratory or seasonal movement patterns. For avid hunters, this activity can be particularly advantageous, as knowing deer movement can ensure you're at the right spot at the right time. Find, collect, and file data using these cameras so that you can better understand and predict animal patterns on your property. 
3. Evaluate tree stands and outdoor equipment. 
August and September are terrific months to conduct maintenance and safety checks on all outdoor equipment or hunting stands. Spring and summer weather tends to put some wear and tear on anything that is left outdoors. What's more, you may even find unwanted pests in your stands. Ensure that hunters have access to sturdy and reliable equipment when they need it by evaluating your property and making updates or repairs. When hunting season starts, you'll be glad that you were a step ahead. 
4. Clear access paths and trails of debris and overgrowth.
Many of our properties have dirt roads, trails, and other travel paths besides smooth, paved roads. During the spring and early summer months, many landowners find that there may be natural barriers to pathways in the form of fallen limbs, plants, and vine overgrowth. Springtime storms are typically to blame. Use these warmer months to clear paths and make travel more accessible and safer for you and your family or guests. 
5. Communicate with nearby landowners, farmers, and hunting club members in the off-season. 
Many times, communication takes place only when there's a need. That need is typically during hunting season or in the fall and winter months. Ensure that you are staying neighborly and professional by checking in during the slow months of summer to maintain relationships, ask questions, or convey any critical information before fall begins. This is especially true if you ask permission to hunt on someone else's property. 
Fall and winter can be a time of great beauty on your land, making memories with friends and loved ones, and continuing traditions started decades ago. Spending a little bit of time this summer prepping your property makes for a much smoother transition into the hunting season. Show your land in its best light by preparing now instead of rushing later. 
Tutt Land Company is a full-service real estate and land management company offering development services, timberland management, and brokerage of land, residential and commercial properties.  Reach out to us today at (334) 627-4004, or visit our website at www.tuttland.com.